Queen Camilla bottle fed a baby elephant when she visited an orphanage in Kenya for elephants who had lost their parents to poachers.
On the second day of the royal state visit to Kenya, the Queen helped with feeding time at the Sheldrick Wildlife Trust Elephant Orphanage.
She and King Charles heard about the work of rescuing and rehabilitating orphaned elephants.
As well as poaching, elephants face the threat of deforestation and drought.
If royal state visits have plenty of photo opportunities, few could have such a high cuteness factor as a visit to an elephant and rhino orphanage.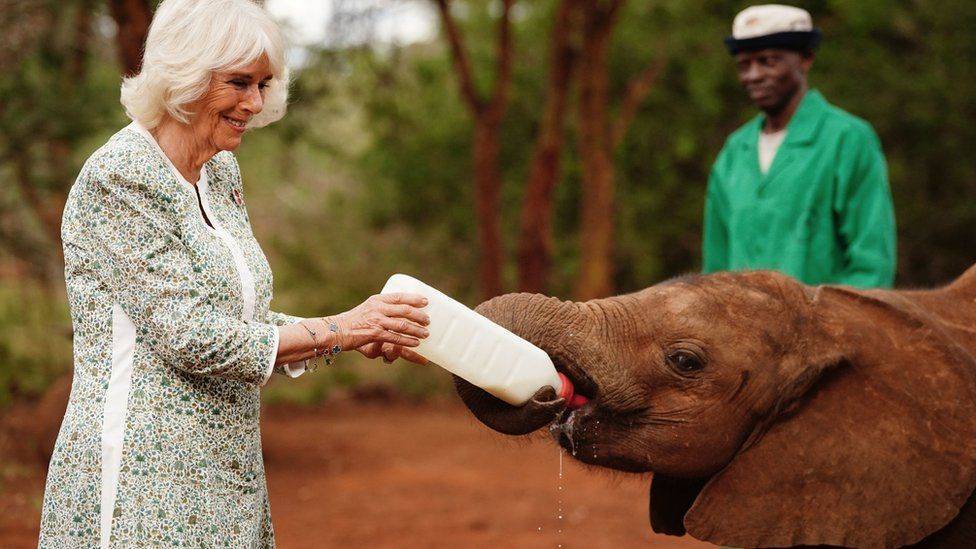 If the first stage of the state visit had been about addressing the difficult legacy of colonialism, here the more serious side was truncated with a softer moment in Nairobi National Park.
An elephant calf wrapped its trunk around the bottle as the Queen joined keepers feeding the orphans.
The King talked to staff at the park while a young rhino was nibbling one of the keeper's trousers.
The wildlife centre, which has raised 316 orphaned elephants, is part of an effort to protect a species under intense pressure from human encroachment.
The park also holds the site where large quantities of poached ivory, intercepted by the authorities, had been burned, to show the country's commitment to stopping the illegal wildlife trade.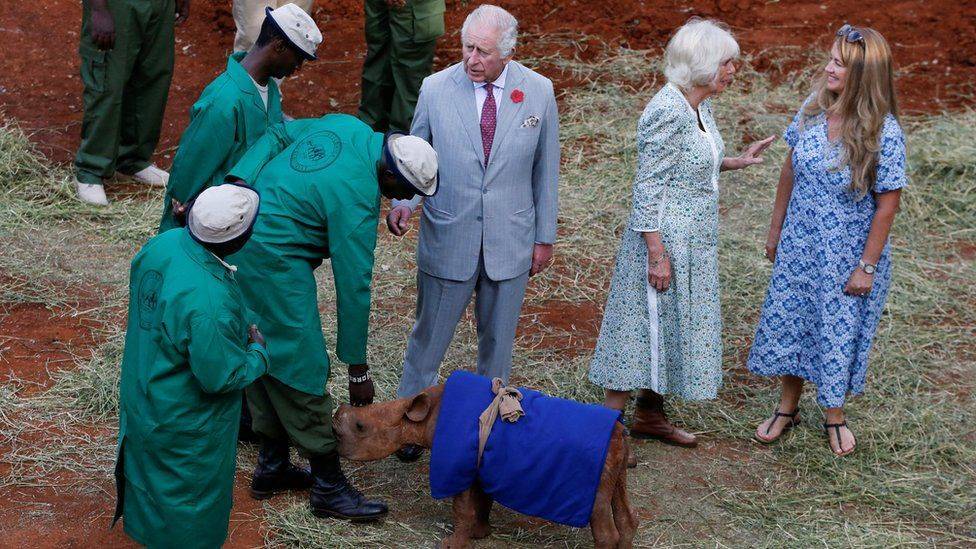 The trip to Kenya has emphasised the King's support for environmental causes and sustainability.
He visited a United Nations office in Nairobi to hear about their ecological efforts and he later planted a tree with 10-year-old Karen Kimani, a schoolgirl who had written to him about needing to protect the environment.
On Wednesday Buckingham Palace also announced that the King would make an opening address at the upcoming .
There were suggestions last year of tensions with Downing Street when the King was not able to attend the previous summit.
The King's state visit to Kenya, the first to a Commonwealth country since the start of his reign, included a significant speech about the legacy of colonialism.
He stopped short of a formal apology, but he spoke of his "greatest sorrow and regret" for the "abhorrent and unjustifiable acts of violence committed against Kenyans" during their struggle for independence.
You can see more royal stories in the free BBC Royal Watch newsletter emailed each week - . or .