Jourdan Dunn, Halsey and Lisa Rinna attend Paco Rabanne's PFW show
, and led the stars attending the Paco Rabanne show during Paris Fashion Week on Wednesday.
It marks the first fashion show by the brand since its creator .
Jourdan, 32, showcased her figure as she donned a black leather bralette while attending the Paco Rabanne show during Paris Fashion Week on Wednesday.
The model turned heads as she arrived at the event in a dark purple leather jacket which she left open to highlight her toned midriff.
The garment also featured a red beaded detail while Jourdann also wore a pair of matching trousers.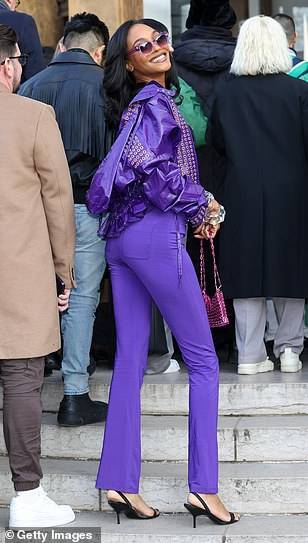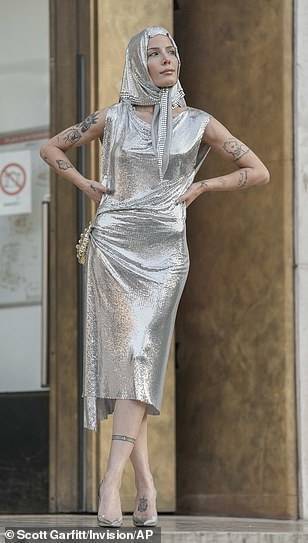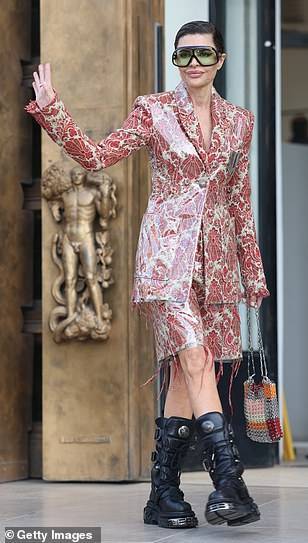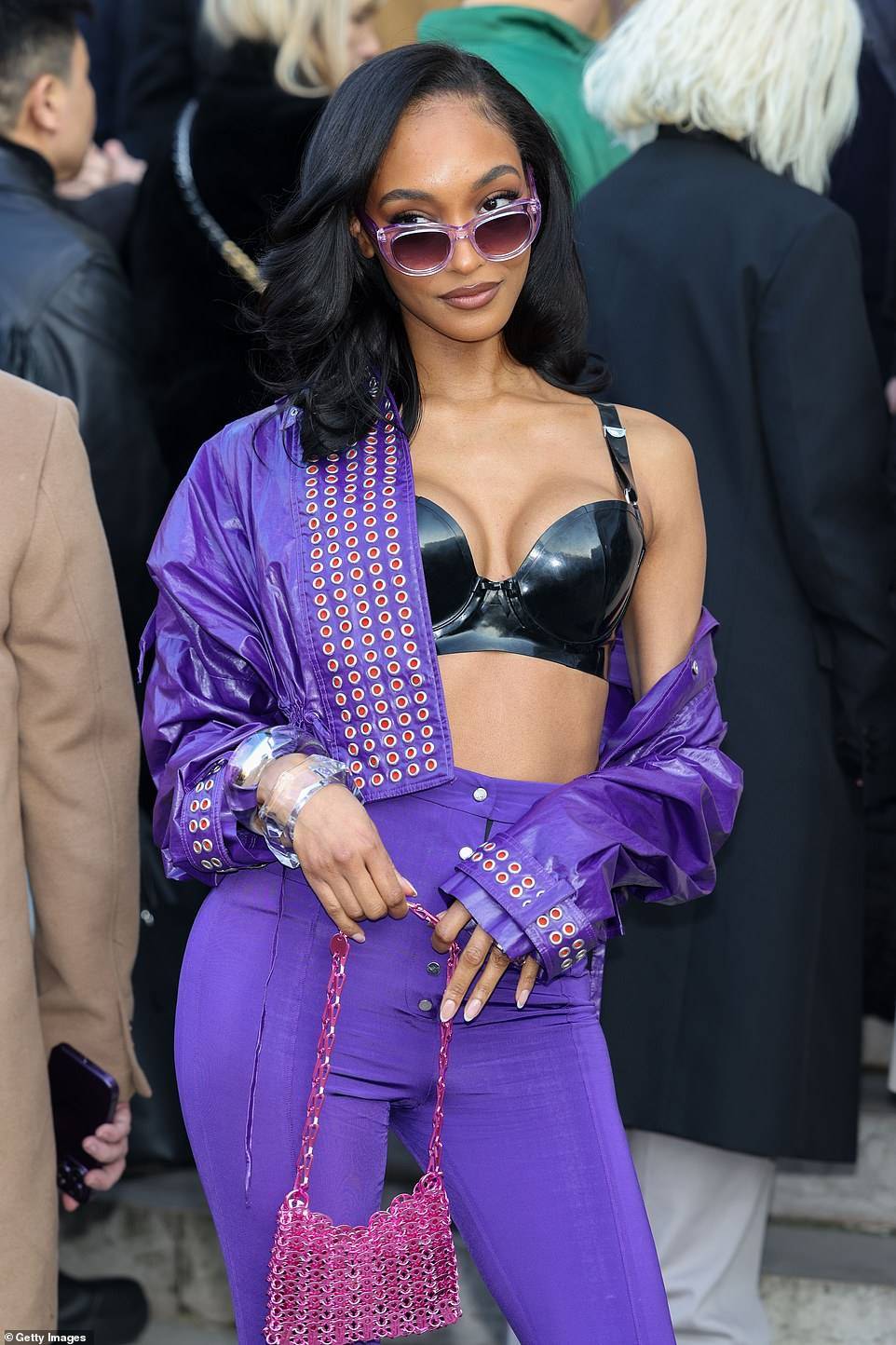 Adding height to her frame with a pair of black open-toed heels, the star complimented her outfit with a pink handbag.
Letting her tresses fall loose around her shoulders, Jourdann completed her look with a pair of sunglasses.
Halsey showcased her sense of style as she slipped into a silver sleeveless midi dress that highlighted her incredible figure.
The hitmaker also wore a matching headcarf with a sequinned detail and boosted her frame with a pair of matching heels.
Also carrying a gold clutch bag, Halsey showed off her array of tattoos as she posed for the cameras.
Wearing her locks in an updo, the star accentuated her natural beauty with a light palette of makeup.
Lisa Rinna opted for a silver blazer and matching mini skirt that featured a deep red floral print.
The former Real Housewives of Beverly Hills star also sported a pair of black boots and carried an orange, grey and red striped handbag.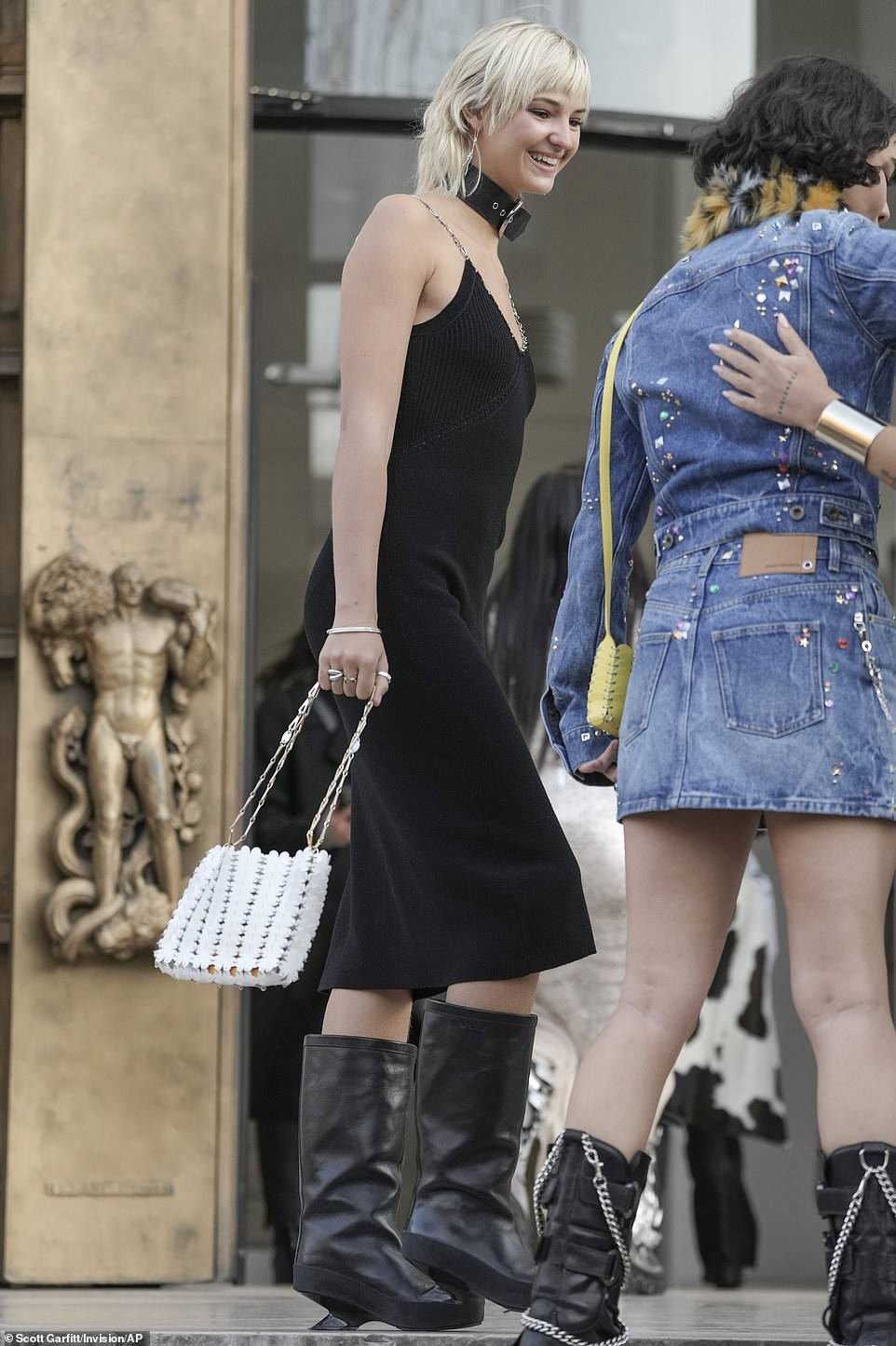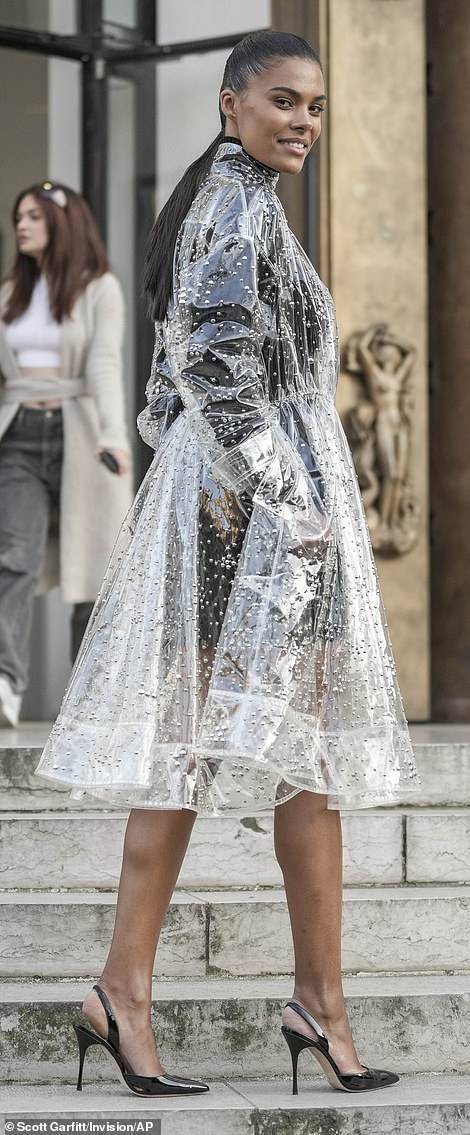 Styling her locks into a sleek updo, Lisa also wore a pair of chunky black-rimmed sunglasses.
Also in attendance at the show was Romeo Beckham's girlfriend Mia Regan who opted for a black sleeveless midi dress.
The model also wore black leather boots and drew attention to her look with a matching choker.
Tina Kunakey opted for a black long-sleeved mini dress which she wore uner a sheer plastic cover up.
The star, who is the wife of actor Vincent Cassel, donned black heels and wore her locks in a ponytail. 
It was announced earlier this month that Paco Rabanne had died in Brittany, France.
The eccentric icon, whose real name was Francisco Rabaneda y Cuervo, used metal, plastic and paper to create his space-age designs, which led to him being dismissed as 'the metal worker' by Coco Chanel.
The designer - who was rarely seen in public after retiring in 1999 - was nicknamed 'Wacko Paco' and claimed to have lived multiple lives. Among them he said he was a Parisian prostitute during the reign of Louis XV and Tutankhamun's killer.
He believed he was 78,000 years old, had met God on multiple occasions, been visited by aliens, and had sex with the Earth.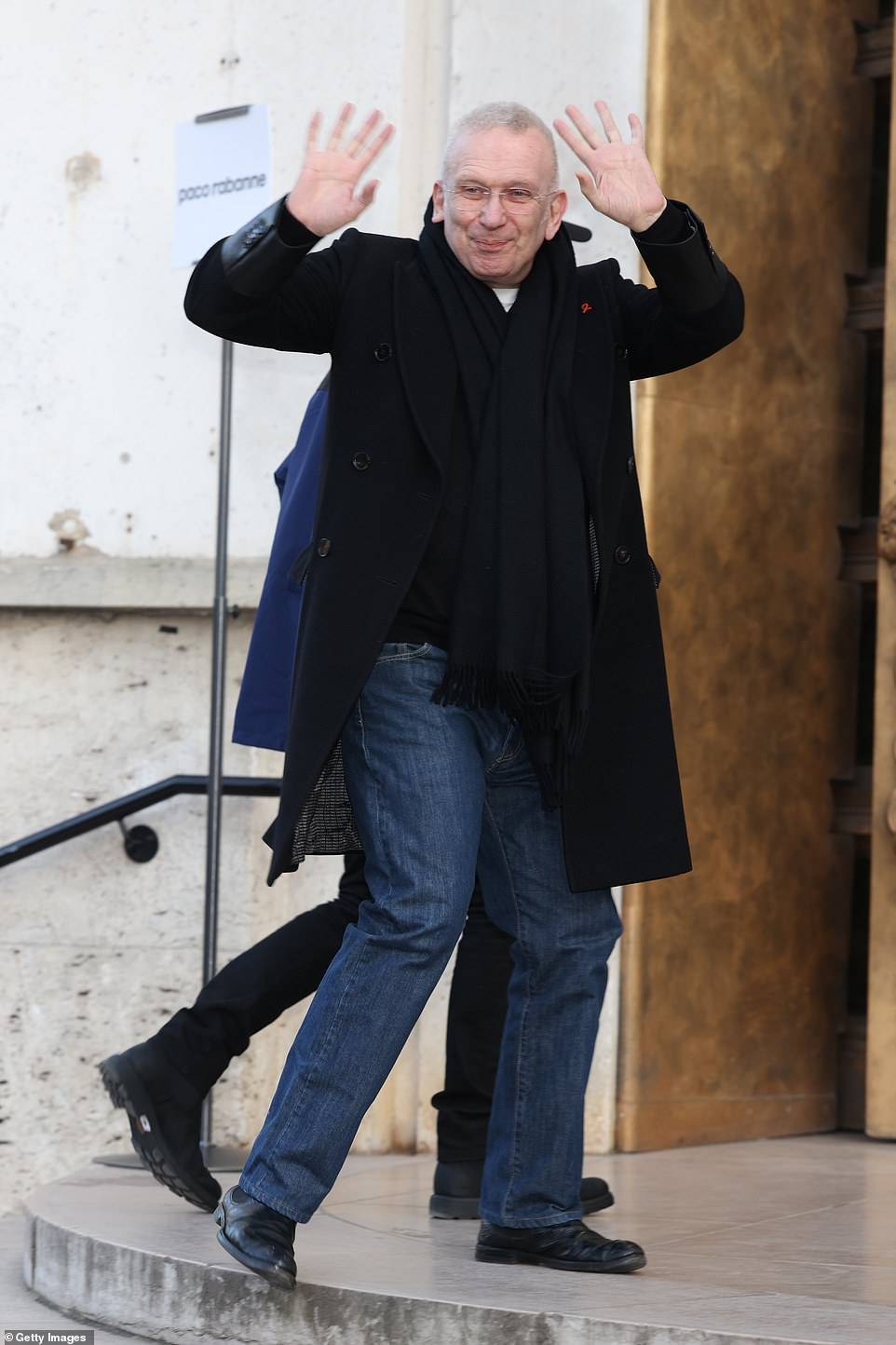 He also predicted in 1999 that Paris would be destroyed later that year when the Russian space station Mir crashed to Earth.
'I have always had the impression of being a time accelerator,' he wrote in typically enigmatic style for a retrospective at Antwerp's fashion museum, MoMu, in 2016.
'Of going as far as is reasonable for one's time and not indulge in the morbid pleasure of the known things, which I view as decay.'
He was born in 1934 shortly before the Spanish Civil War. His father, a Republican colonel who was a commander of the Guernica garrison, was shot dead by Francoist troops.
His mother worked as the chief seamstress at Cristóbal Balenciaga's first fashion house in the Basque country in Spain before moving the family to Paris.
In the French capital, the young Rabanne started making sketches for Dior and Givenchy in his spare time from his architecture degree, and then worked at a concrete producer for ten years.
But his passion for design could not be dulled and he began making jewellery for luxury brands before starting his own fashion house in 1966.
The bold stylist was branded the 'enfant terrible' of the fashion world when his debut runways showcased his innovative designs, using unconventional materials.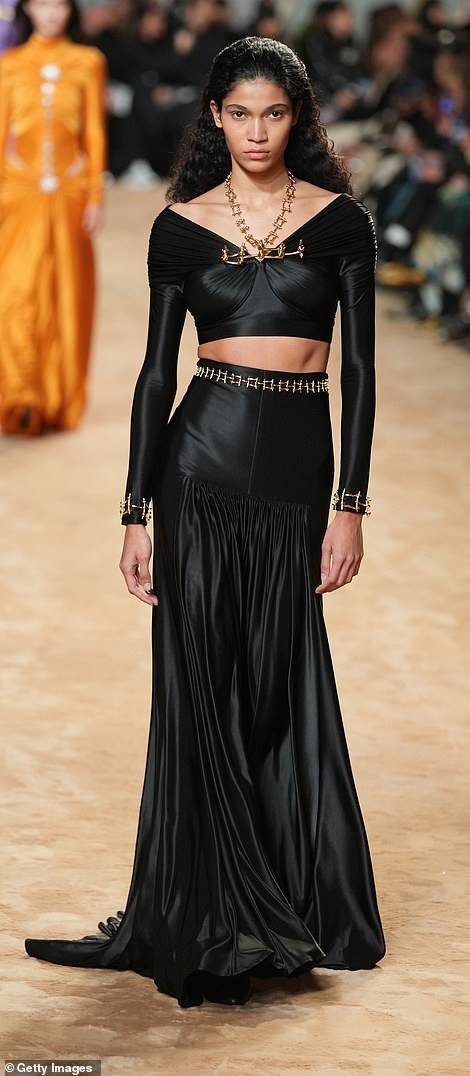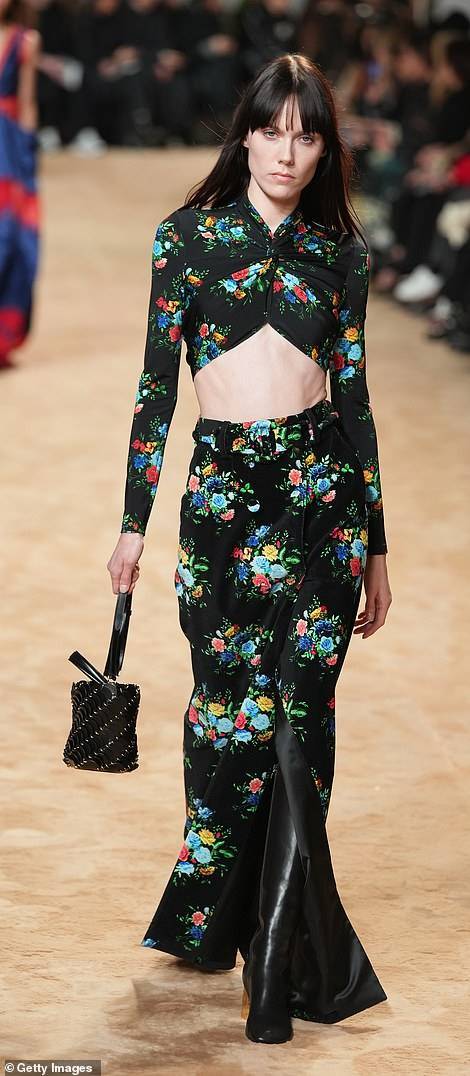 His show brought immediate fame and notoriety when he stunned the audience with '12 Unwearable Dresses', his models dancing barefoot down the catwalk in outfits made of sharp metal.
His stardom reached further heights when in 1968 he designed the iconic green Barbarella outfit worn by Jane Fonda in the eponymous film.
After the media furore around his own line, Rabanne signed a deal that year that brought him under the ownership of the Barcelona-based Puig family, heavyweights in the fashion and fragrance industry.
He also dressed Audrey Hepburn, Mia Farrow and Françoise Hardy during the height of his fame.
He famously dressed global superstar Lady Gaga in outfits made entirely of paper for her 2011 appearance at the MTV Europe Music Awards.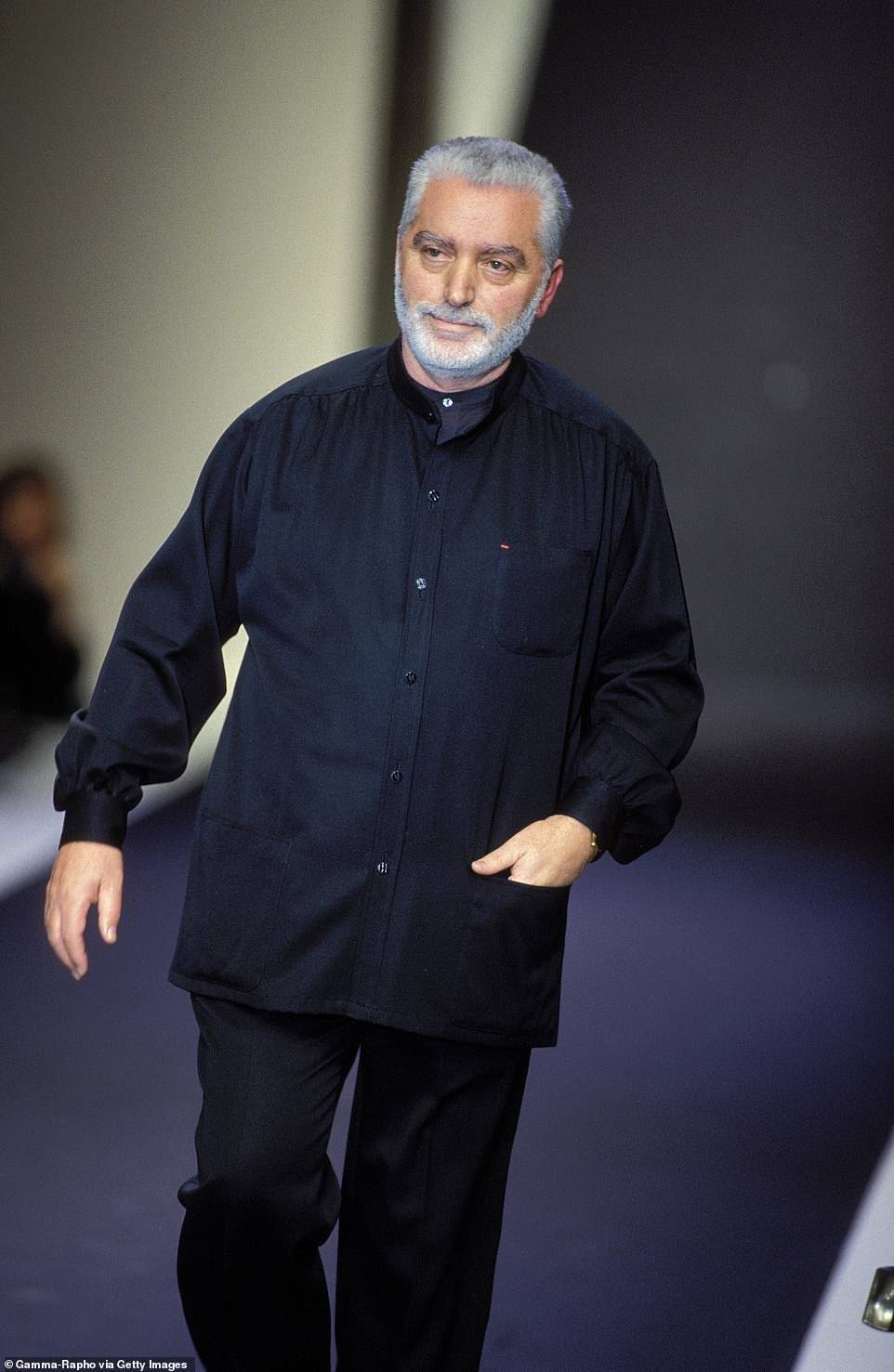 more videos
It marked his entry into perfumes that would see his name become synonymous with cologne, ultimately even eclipsing his fame as a designer.
A statement shared on his official Instagram account said: 'The House of Paco Rabanne wishes to honour our visionary designer and founder who passed away today at the age of 88.
'Among the most seminal fashion figures of the 20th century, his legacy will remain a constant source of inspiration.
'We are grateful to Monsieur Rabanne for establishing our avant-garde heritage and defining a future of limitless possibilities.'